PRO-GUN VICTORY!!!
Merely 24 hours after RMGO brought to light the lies of El Paso County's anti-gun sheriff, Bill Elder, the agency released a statement declaring the EPC Sheriff's Office would resume accepting appointments for CHPs [Concealed Handgun Permits] starting May 11th.
See the statement below: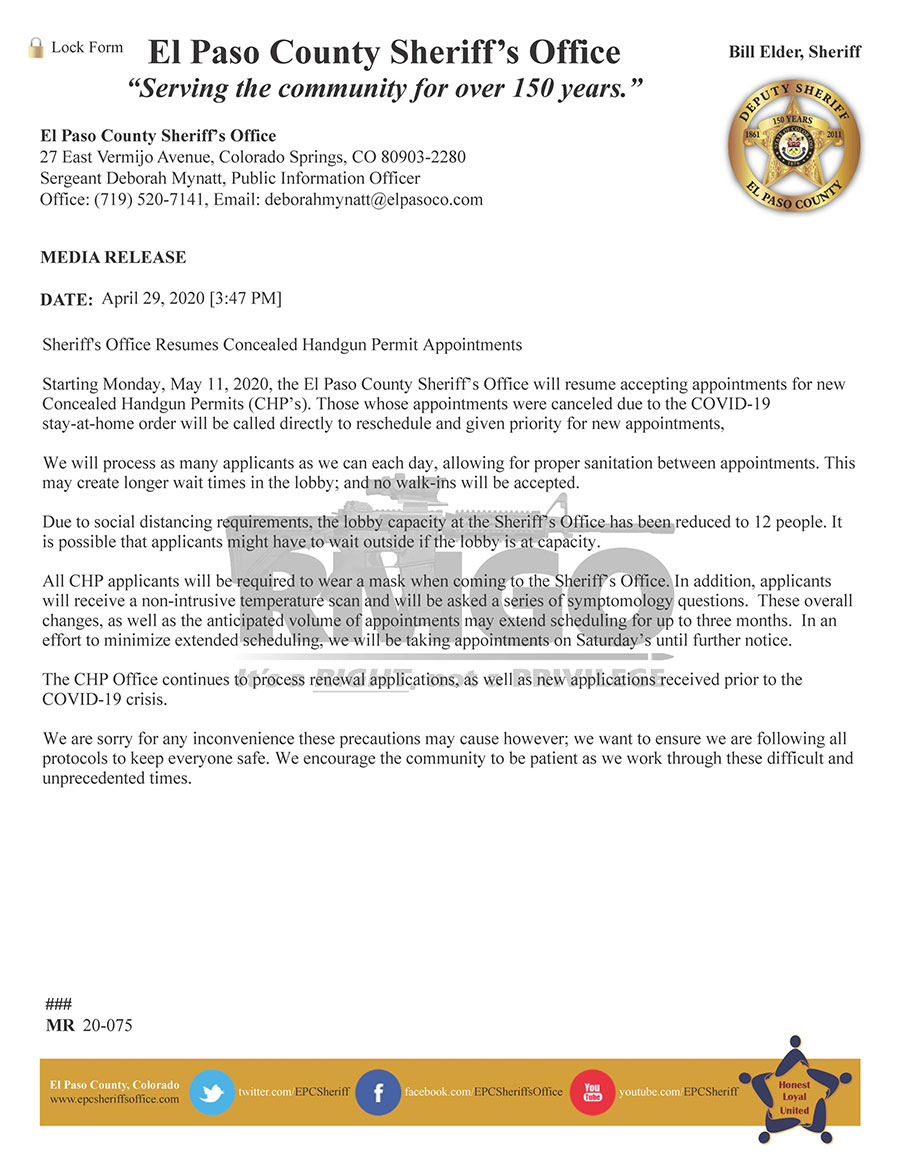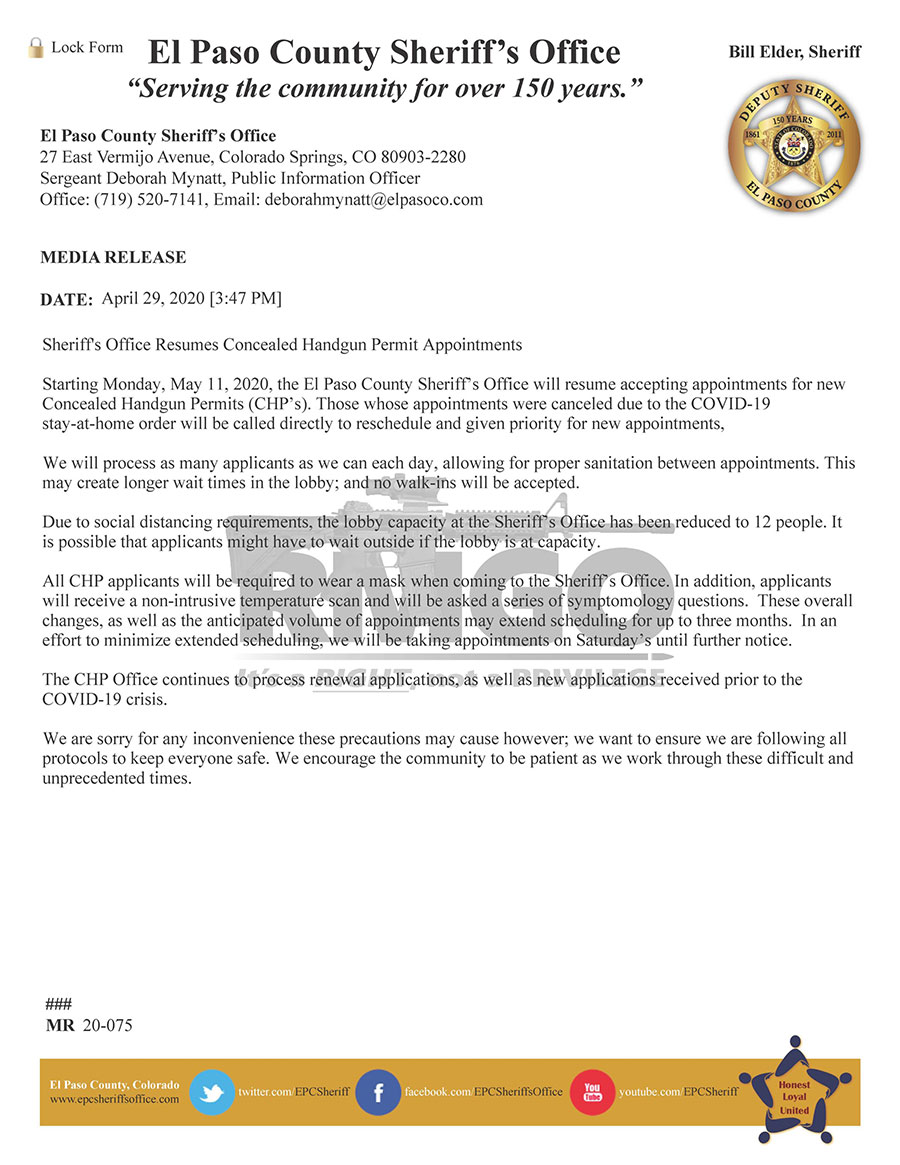 Because of your grassroots pressure, we can turn the tide of bad-acting elected officials!
THANK YOU!
Are you following us on social media? If not, click below!
ORIGINAL ARTICLE
Dear Patriot,
Have you been paying attention to the news out of El Paso County?
Well, to say law enforcement is abusing its authority is an understatement.
Earlier this month, Gov. Jared Polis issued executive orders, encouraging law enforcement agencies across Colorado to continue processing new applications for temporary concealed handgun permits, and removing the fingerprint requirement to reduce in-person contact during the pandemic.
Trust me, I was just as surprised as you probably are right now that our liberal extremist governor did something somewhat pro-gun.
However, this isn't what I want to inform you of, but it is connected.
Dustin Hannan of Colorado Springs called KOAA (Channel 5 in CO Springs) to report a violation of his constitutional rights.
This report came after learning the El Paso County Sheriff's Office isn't accepting ANY new applications for concealed carry permits, due to COVID-19.
To make matters worse, the Denver Police Department and sheriffs such as Tony "Red Flag" Spurlock (R-Douglas County) and Tyler Brown (D-Arapahoe County) are following this policy, after previously suspending ALL handgun permits.
When KOAA called the EPC Sheriff's Office, the media relations manager confirmed they [El Paso County Sheriff's Office] are not processing ANY concealed handgun permits.
But wait… it gets worse.
After this story broke, Sheriff Elder took to his "Bill Elder" Facebook page claiming these reports are "Fake News" and are pushing an agenda.
Well, Sheriff Elder… your website explicitly states the reports out of El Paso County are 100% true.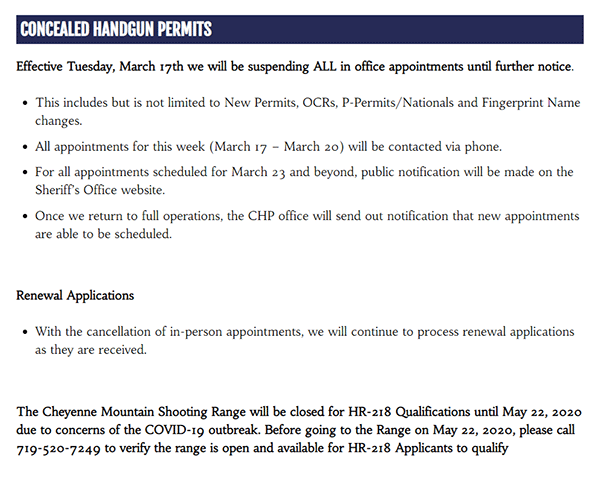 When KOAA reached out to the EPCSO, they affirmed CHP's will not be issued because of "reduced staffing" and a backlog of applications received before the COVID-19 pandemic.
KOAA's research concurred with our knowledge that surrounding areas are still processing the 90-day permits, per the Governor's Executive order.
That means El Paso County's "Republican" Sheriff, Bill Elder, is more anti-gun than the Denver Police Department and Dem. Gov. Jared Polis. Wow.
The EPCSO said it's not reasonable to compare them to other Colorado Agencies, citing that El Paso County–the second largest county in Colorado–processes and issues more concealed permits than any other county in the state.
Well, Sheriff Elder, Denver County is the LARGEST County in the state (not to mention the most liberal), and they are following these guidelines.
It is becoming more and more apparent that Sheriff Bill Elder is no friend to the Second Amendment.
For Freedom,
Dudley Brown
Executive Director
P.S. This isn't the first time Sheriff Elder has said one thing and done another.
During the debate of the Red Flag "Gun Confiscation" bill last year, the sheriff threatened to sue the state if the bill became law (which it did.)
Now, four months into the enactment of the law, no lawsuit has been filed.
It's clear Sheriff Elder is all bark and no bite.