By: Teresa Mull
The Kroger grocery store chain, which includes the Fred Meyer and Fry's chains, has banished RECOIL Magazine from its shelves because it features guns on its covers.
Ian Harrison reports at the magazine's website:
SOMETHING'S NOT QUITE RIGHT…
You've made a run to the grocery store to pick up a few supplies and decide to swing by the magazine rack to see if the latest RECOIL or CONCEALMENT is out yet. Hmm, not there, must have sold out.
NOTHING COULD BE FURTHER FROM THE TRUTH
In fact, not selling out is the reason you're having trouble finding us, as the memo below affecting all gun mags points out. You see, Kroger, who owns the Fred Meyer and Fry's chains in addition to their eponymous grocery stores have decided to take it upon themselves to be arbiters of taste regarding what we put on our covers.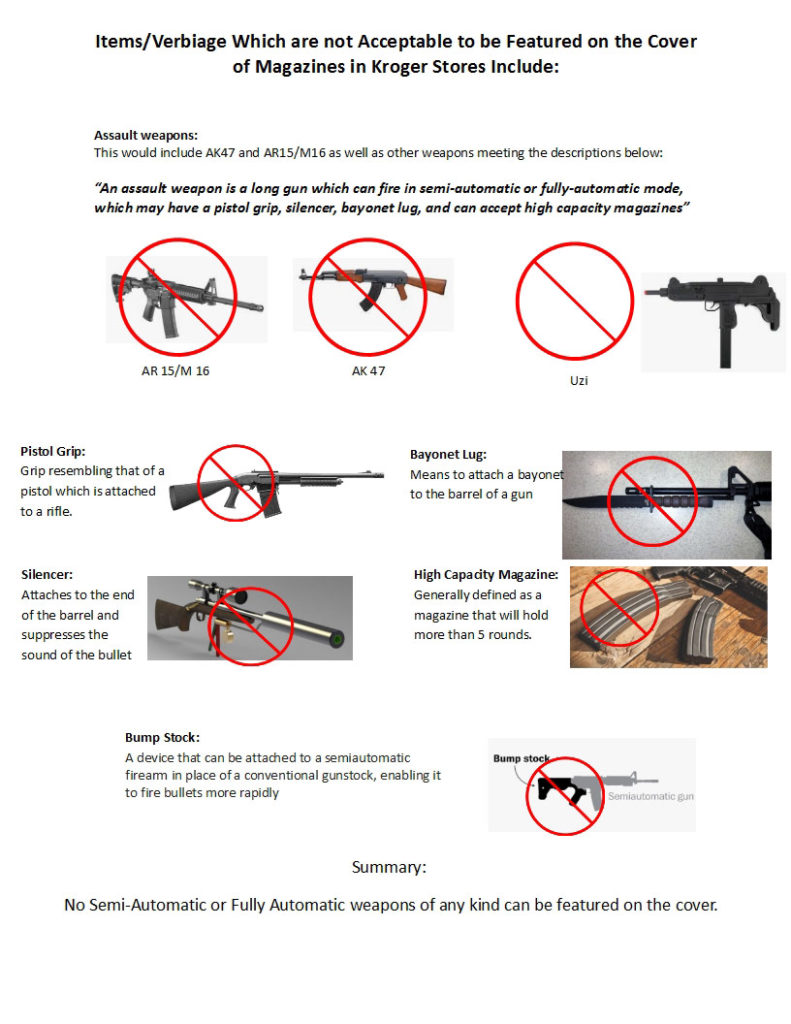 They forgot the shoulder thing that goes up and chainsaw bayonet, but the rest of the ignorant talking points and arbitrary cosmetic features are there. Idiots.
WE WRITE FOR YOU, NOT THE CENSORS
We think we put out some of the most kick-ass content in the gun world, so having an Arugula pusher look over our shoulders while we write and design it, didn't exactly sit well. So when faced with the choice of bowing to the corporate overlords or being left off the shelves, our answer was a full-throated 'f*** you'. We'd rather take a hit to our bottom line than bend the knee.
RECOIL is asking readers to promote awareness about 2A censorship by sharing their story on social media. They're also asking gun owners to subscribe to the magazine with the promo code CENSORTHIS.
Teresa Mull is editor of Gunpowder Magazine. Contact her at teresa@gunpowdermagazine.com.